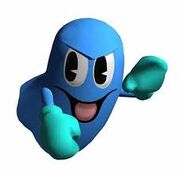 Inky is a character who first appears in "When the Past Attacks." He is Old Flavor Village(waffle land)'s mayor. He makes funny puns about Waffle Wizard being senile and old, which makes Waffle Wizard not like him.
Season 1: Inky first appeared in "When The Past Attacks", when Berry mentions there is no mayor. He says he is the mayor and that he is married to his sister Pinky. Berry is really creeped out by this. When Waffle Wizard mentions that he should be mayor, Inky tells the characters about how senile Waffle Wizard is.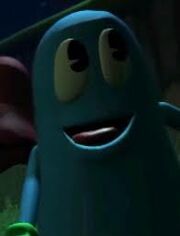 Section under construction
Berry
Dawn
Sandy
Blinky (brother) (no appearance so far)
Clyde (brother) (no appearance so far)
Inky is from the Pac-Man games.
He is creepily married to his sister for an unknown reason.