UNCREATIVE RAP BATTLES OF WIKIA!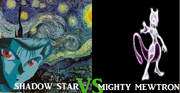 MIGHTY MEWTRON!
VERSUS...
SHADOW STAR!
BEGIN!
Mewtron:Some star you are, more like a white dwarf
Cause you got no life and you have no worth
You have more accounts than Mike's personalities
All have no life, no originality
Banned boy, come around, trolling people to the ground
You inherited this wiki, didn't earn it anyhow
But if a Staryu versus a Mew
Shadow:Alright Mew, I've had patience with you
But unfortunately your time here is through
Back when I was Akane I was shining
Even now I'm worth more than diamonds
You may be an admin but I'm the better man 
I lay down my versus like the best made plan
Your words aren't creative
They're very disgusting; so ugly, it bugs me
so trust me
You're only making this go from bad to worse
Save yourself by turning round in reverse
Mew:Admin? You're friends with Twight!
Your buddy's a racist, infamous, and a blight!
On the wiki, Forgiveness is not what we do!
Be lucky that for the SPs I still haven't reported you!
Twinkle, Twinkle, Akane Star
You're dead now, just a shadow that's dim and far.
Shadow: Forgiveness? Ha I don't need it.
My past is the past you better believe it
That's all you talk about cause you got nothing else
I'm Shadow Star, ya got that little Irk? Being a Star aint easy but I can handle it
My rhymes are brilliant like the light I emit
And I bet you aint even getting this But that's okay Mew,
I finished you off
You lost this battle before it even started.

WHO WON?
WHO GETS KICKED TO THE CURB?
YOU DECIDE!
UNCREATIVE RAP BATTLES OF WIKIA!

VOTE BELOW